During the Lockdown periods, I was struck that the buildings at Island Bay Home of Compassion could not contribute to the needs of the pandemic. We were not an essential service.
The Tory Street Compassion Soup Kitchen was a significant essential service, but not a former hospital at Island Bay. This concerned me as being a sister at Island Bay, I was privileged with space and quiet when large families were confined to their house and a small backyard.
At this time, Pope Francis saw the Church as 'a field hospital after the battle'. He said that the church, should not remain in splendid isolation but should give help where people are afflicted. The Home of Compassion was in splendid isolation. Pope Francis encouraged the Church, you and I, to identify the signs of the times, discerning the movement of the Spirit in today's world.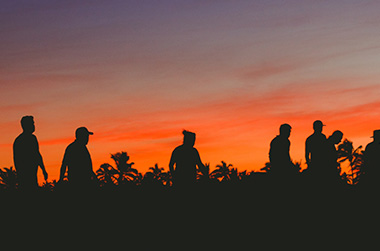 In 2021 a spark flickered for me when Karen Holland, the Director of Catholic Social Service, sent out a request to a variety of organisations and to Wellington Pastoral Areas for housing and household appliances to assist refugees and migrants.
It became apparent that Redwood House could accommodate a large family on the Island Bay property. The sisters made known that the building was available. The sisters residing in Redwood House found alternative accommodation. Working with Catholic Social Services and Red Cross, a family identified through the work of the Family Reunification Trust, now has a home.
In August of 2021, accommodation for refugees from Afghanistan became crucial. With the support of Aotearoa New Zealand Red Cross and the Ministry of Defence, temporary accommodation within the former hospital complex at Island Bay became available.
The sisters could not provide the support for families arriving in Aotearoa New Zealand, traumatized from wars in Africa and Afghanistan. They required experts and specialists to give the refugees space to recover from the trauma of fleeing their families and country. The management team at the Home of Compassion are cooperating with Red Cross, the Refugee Family Reunification Trust and Changemakers to provide families with the appropriate balm to heal physical and emotional wounds.
Part of our own history
Reflecting on the turmoil of the world today illustrates the ongoing search to survive and flourish in better environments. The migration of individuals and families is part of our history. All of us come from families who were or are migrants or refugees. My ancestry goes back to Ireland, Scotland, England, and the displacement of Jewish people; they were all in search of better living conditions and opportunities for a better future for their children.
Aunty Genia was one of the Polish children who came to Aotearoa New Zealand via Red Cross in the 1944, as a WWII refugee. I have grown up with her story. You will have connections and stories of your own to share with your families.
Meri Hōhepa Suzanne Aubert migrated to Aotearoa New Zealand as a missionary, she was moved by the Holy Spirit to share the Gospel. To do so, she migrated to Aotearoa New Zealand. She gifted so much of her love and talent to the people in her time. While in Europe from 1913 to 1920, she was a person of suspicion, and in some situations, she suffered the plight of a refugee.
Preparing to return to Aotearoa New Zealand, Suzanne Aubert required a valid passport; she did not have one. She was not recognised by Aotearoa New Zealand or France. Suzanne Aubert was judged to be a spy, she was French, it was wartime, and she was an elderly woman on her own. Her status as a religious sister was questioned as she went out and about on her own, wore an unusual habit, and was sometimes thought to be sleeping in churches.
The delight that the families from Afghanistan give us especially through their children, has been heart-warming. We have shared food with each other and much more.
The sharing of food with communities highlights the Feast of Corpus Christi. We have been overwhelmed by sharing a flat bread each evening made by Halima. Her gratitude for a temporary home was in the making and sharing of bread. Her children delighted in giving it to us.
Sharing hospitality with those in need reminds us that we are the Body of Christ. Suzanne Aubert frequently reminded her sisters to see Christ in everyone they met, especially the poor and despised.
The Sisters of Compassion have been gifted with the opportunity to open our doors and to offer hospitality to those coming from the battlefields of the world. We have been given the grace to respond to the movement of the Spirit in today's world.
– Sister Margaret Anne Mills