Each new year brings hope and new beginnings for people arriving to live in Aotearoa New Zealand. For many refugee families, being able to stay together provides them with the strength they need to overcome their past difficulties and face the uncertainty and challenge of moving to a new country.
Giving hope and reaching out to families seeking compassionate care is one of the missions of the Sisters of Compassion. With your support, we can continue to help refugees who arrive seeking a new life. Together we can provide accommodation and support to people who need it, giving them a helping hand and hope.
"I will never forget how my family and I were looked after by the Sisters of Compassion"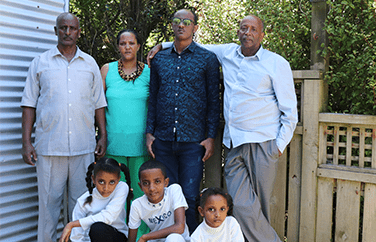 Zerai had to flee Sudan with his family when their life was in danger. Only six months later Zerai was able to get out with his wife and four children to begin a new life in Aotearoa New Zealand. Despite being safe, Zerai worried for his other family members who were left behind, so he began the process of bringing his brother Mewes and his family to escape from the brutality and violence.
The Sisters of Compassion stepped in to give Zerai financial support towards the costs of applying for his family's refugee status. When their application was successful, and the family was granted asylum in New Zealand, the Sisters also stepped in to provide them with a house so they could all stay together in their new temporary home in Wellington.
"Soup Kitchen is not just for street people, it's for everyone, and that's a big thing and the reason why donations are always welcome here"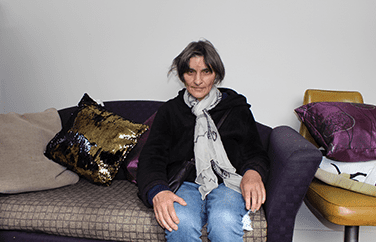 For Angela, the Compassion Soup Kitchen is not just a place, it is the refuge that has welcomed her for over 20 years when she wants to take a break from everyday problems.
She can't afford anything at the moment, but she relies on the Compassion Soup Kitchen, which has helped her for years. "Soup Kitchen is not just for street people, it's for everyone, and that's a big thing and the reason why donations are always welcome here".
Please support our March Appeal today
To donate through online banking
Use our account name: The Mother Aubert Home of Compassion—Trust Board
Account number: BNZ 02-0500-0017474-00
REF: Your name
CODE: MarchAppeal
If you wish to receive a receipt, please email us on donations@compassion.org.nz
Donate over the phone
Call us on 04 595 5803 during office hours 9:00 am – 2:00 pm Monday to Thursday. If you would like to make a donation outside these hours, leave your name and contact details and our team will get in touch.
Cash donations
If you wish to give a cash donation please post to: Sisters of Compassion, PO Box 1474, Wellington 6140
Or to drop off in person, Monday – Friday, 9:00am – 4.00pm at 2 Rhine Street, Island Bay, Wellington 6023.
Donate via this website
Click the Donate button below to make your website donation now.