Book accommodation and facilities:
Enter the check-in date and the check-out date. (Online bookings must be three days in advance of today's date)
Select the category you want to book. E.g. Single Room
Click the Blue 'Book Now' button.
Pop-up box will appear with the first available rooms in green. Select this room by clicking the blue 'Continue' button or click on the room to see other available rooms in that category.
After clicking 'Continue', enter your details or click the green "Add to Booking" button at the top right. Repeat the process to add other rooms to the booking.
After entering your details, click the blue 'Continue' button and enter your payment information.
Searching Availability...
Accommodation
Single, twin, and double room options are available in quiet spaces with beautiful outlooks. All rooms have individually controlled heating, a desk, and cupboard space. The room rate includes a simple breakfast and wifi connection.
Facilities
Meeting rooms are available for small and large groups for up to 80 people in size with wifi, tables, and conference seating provided. Audio-video equipment is available at an additional cost.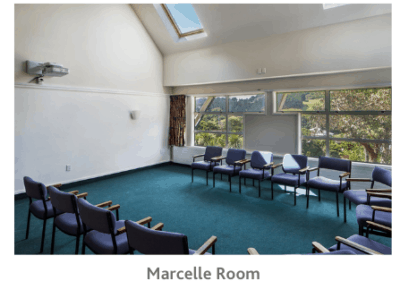 See our Conference Venue Brochure for more information.
Catering
We offer a range of delicious meals across morning and afternoon teas, lunches and dinner. Please discuss your catering requirements, including any special dietary needs, when booking. If you'd like to self-cater please discuss this with us as an additional cost is charged for this.
Location
Our address is 2 Rhine St, Island Bay, Wellington. Please direct your driver to come via Murray St. If you are coming from the airport or CBD, note that it is a 10-minute drive. We are a five-minute walk to the no. 1 Island Bay which regularly goes to the city.
Fees
Groups and individuals booking a spiritual retreat may avail of discount rates. These rates, a quote, and fee schedule are available upon request.
When considering a booking, please contact management if the cost is prohibitive. Please see our terms and conditions for more information.
You are invited to contact our reception to book accommodation and facilities over the phone or via email. Please phone: (04) 383 7769 or email: islandbay@compassion.org.nz